Posts: 6
Joined: Sun Jan 26, 2020 2:06 am
Location: Tallahassee, FL
Real Name: James Carvin

Tue Oct 04, 2022 3:44 pm
If this has been discussed here before, I can't find it and it may be more of a cloud storage issue, than a Davinci Resolve problem. But I successfully rendered and uploaded my video to YouTube yesterday. Then this morning, I noticed a typo and a sound problem that would be easy fixes. So I re-rendered it after making the edits but got an error message. Then, I retried and got a warning that some clips were missing. So I guessed I must have moved some files out of the folder they were imported from. But it turns out that was untrue. The files were in the same place as before all named the same. The problem seems to be that they were being sent to the cloud. I could see cloud upload signs on the folders and when I went to reimport them to Davinci Resolve, many of the files could not be selected. Apparently they were in the process of being reuploaded to the cloud.
So, my technical issue seems to relate to the cloud. Honestly, I get confused about it. I took the images from my iPhone. I never know where all those images are actually stored. Then I use air drop to transfer them to my MacBook Pro, as these devices have no USB ports. Then I convert my HEIC files to jpeg. They all seem to work fine and I successfully uploaded my project with all the clip files just where they were. See here ...
But this morning, see this ...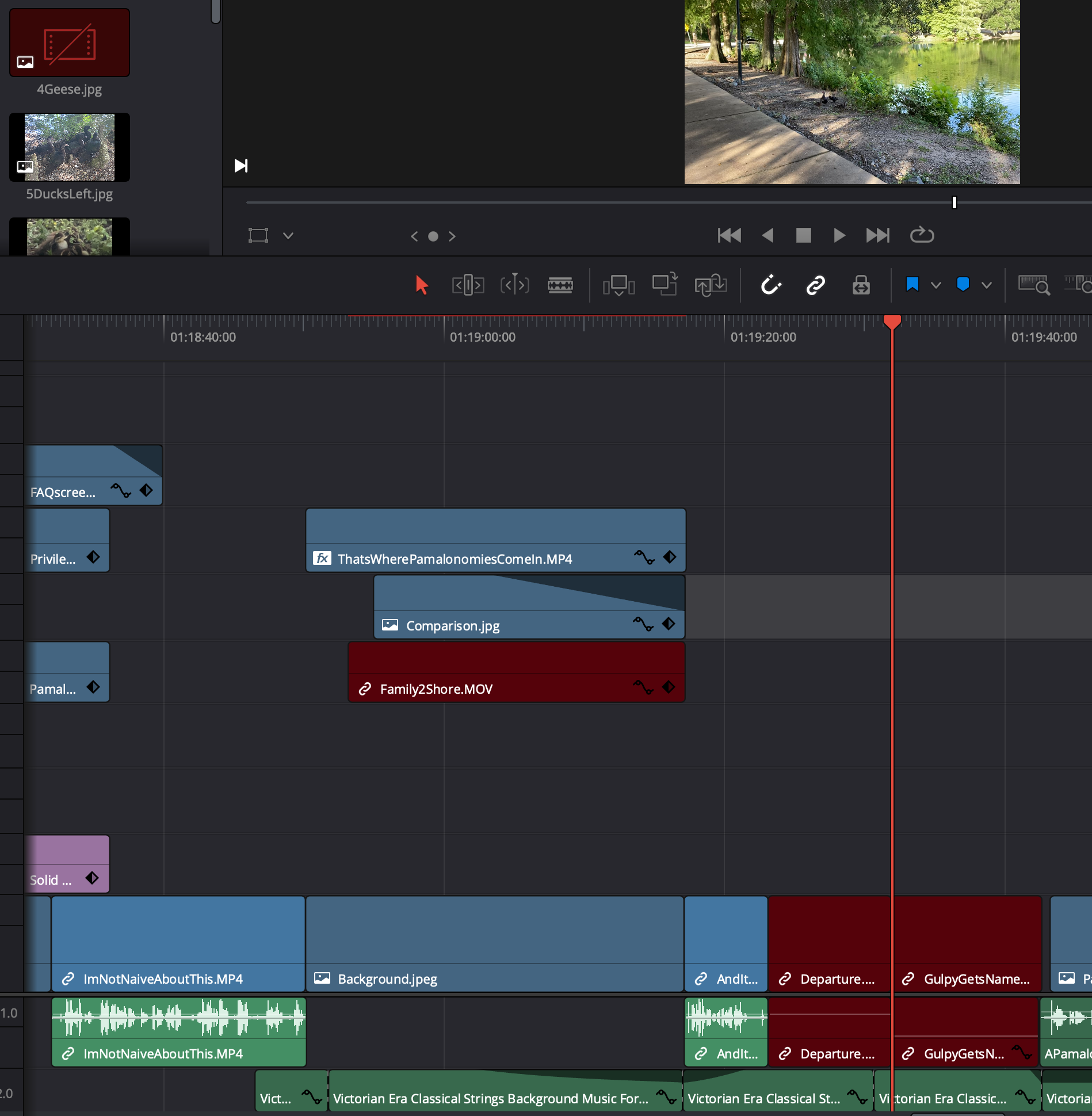 So for cloud storage, I've got OneDrive. I think the object is to spare my devices storage space and make files shareable between them. I didn't realize DaVinci Resolve wouldn't interface to track where files were being automatically transferred cloudwise. I guess I'd be fine if they were already in the cloud when I imported them to DaVinci, but since I was operating faster than cloud upload speed in creating the project, I suspect that is what has caused the problem.
Is there a way to prevent this sort of thing from happening? My project deadline is 10/7. There was a glaring typo and the sound level on one of the clips was intolerable. It's all fixed, but now the other files have been moved and others are in the process of moving all with minds of their own.
Very new and need a lot of help