Posts: 4
Joined: Thu Aug 11, 2022 1:56 am
Real Name: Cameron Brayne

Thu Aug 11, 2022 2:16 am
So, I've been using DaVinci Resolve for a little while making simple videos, one thing I noticed recently that is a bit peculiar is that some of my video clips when I drag them into a timeline become discolored in a fashion I can only describe as a reduction in saturation, more heavily on the red side of the spectrum.
Before importing: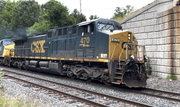 After importing:
(Sorry, I couldn't get the exact same moment in the clips)
The reds and yellows become notably more pale, while the greens and blues seems just to shift down the spectrum. Any idea what's causing this and how I can prevent this from happening?