Posts: 85
Joined: Thu Nov 08, 2012 10:43 am
Location: Germany

Fri Jan 24, 2020 10:44 am
Hi there!
Recently my Decklink Mini 4K gets randomly disconnected during editing in Resolve.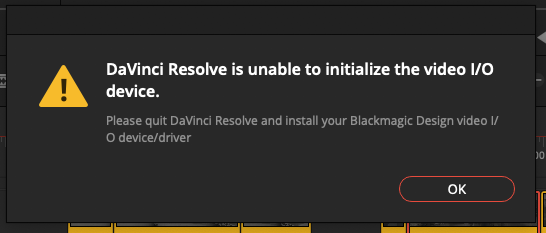 This happens from time to time (4-5 times a day) during editing or grading in the edit-room or color-tab.
The Decklink Mini is still recognized by the OS (i can see it in the Apple System-Settings) and after restarting Resolve it will work again for some time.
I changed the TB3-Cable and switched the TB-ports on my mac, but this issues still appears.
Im on a MacPro 2019 (OS 10.15.2) with 28-Cores, 192GB RAM and Radeon Pro Vega Duo.
Decklink-Driver is the latest from the BM Support-Page and I'm on Resolve 16.1.2
Any ideas?? Thanks!!
Crash-Logs:
http://dbsonic.s3.amazonaws.com/DaVinci ... 113135.zip
Daniel Boist
dbSONIC Media
Germany
4 Installations of DR Studio / Fusion Studio
MacPro (7,1), 28-Core,192 GB, Pro Vega II Duo 64GB
MacPro (6,1) 12-Core,64GB,D700
iMacPro (1,1), 18-Core,64GB,VEGA64 16GB,Decklink Ultrastudio 4K,Sonnet eGFX (VEGA64 16GB)